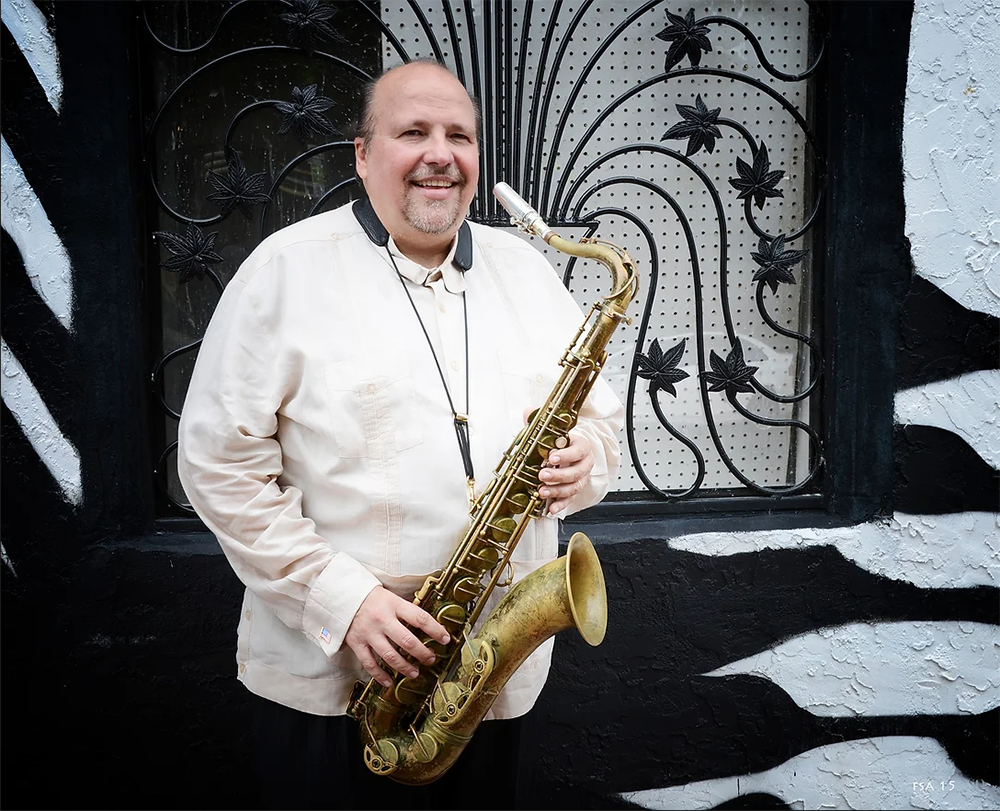 Dr. Ed Calle
Saxophonist, composer, orchestrator, producer, scholar, professor, and leader Ed Calle is known for his extraordinary ability to sight-read, interpret, and perform virtually any musical style. Throughout the globe, his peers and colleagues often laud his versatility.
"…in my estimation, Ed is likely the most versatile saxophonist on the planet."
–Michael Brecker, Calle's mentor and friend
"We call Calle – the monster."
– Arturo Sandoval, longtime mentor and collaborator
The Music of Dr. Ed Calle
Calle can be heard on more than 1,200 albums, about 9,000 singles, and countless movie and television soundtracks both as a soloist, sideman, composer, arranger, conductor, and producer.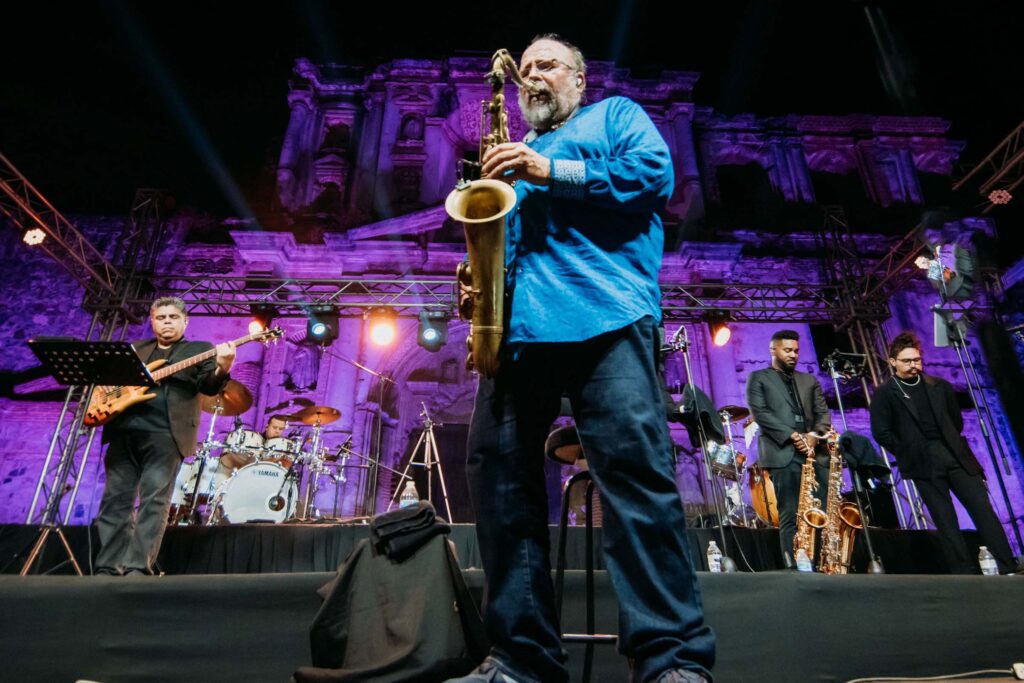 Upcoming Shows
Enjoy the work of one of the world's most respected, versatile, prolific, and dazzling musical artists LIVE!
About Dr. Ed Calle
Born in Caracas, Venezuela to Spanish parents – father Joaquin Calle from Madrid and mother Maria Begoña Calle from Barcelona – it was obvious from the very start that Ed was a gifted musician whose energetic, passionate, and distinct sound captured the attention of audiences and musicians alike.
When Calle and his family moved to America in 1966, his father suggested that Calle take some music classes. Calle picked tenor saxophone and took to it quickly, soon spending nearly all his free time practicing.
As a student at the University of Miami, Calle decided that music was his calling, and received a master's degree in jazz performance. Along with his Latin roots, Calle's playing style is influenced by his love of mathematics–he also holds a bachelor's degree in math from Florida International University. Calle shares his technical background and heritage with the elementary school children he lectures as a traveling music teacher.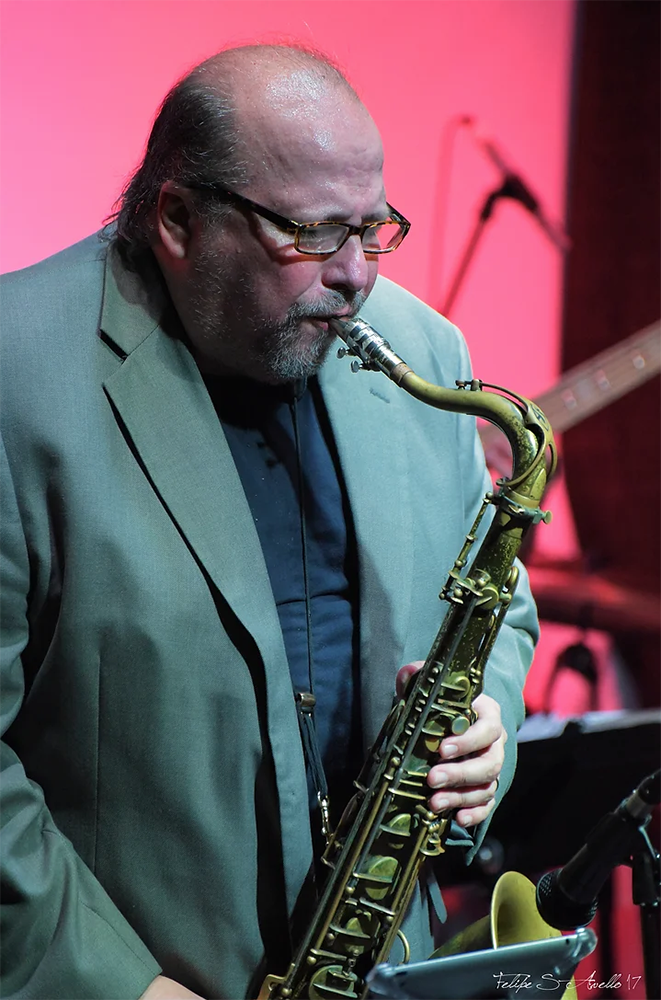 Music Appearances
He appears on Grammy®-award-winning albums by Frank Sinatra, Juan Luis Guerra, Arturo Sandoval, Juanes, Vicky Carr, Gloria Estefan, and Jon Secada. Calle has also recorded and performed around the world with music royalty including Phil Ramone, Tom Dowd, Carlos Santana, Eddie Money, Greg Allman, Michael and Randy Brecker, Poncho Sanchez, Willy Chirino, John Patitucci, Donna Summer, the Bee Gees, Smokey Robinson, Shakira, The Temptations, Lenny Kravitz, K.C. & the Sunshine Band, Gloria Estefan, Frankie Valli, Rihanna, Idina Menze, Ricky Martin, Busta Rhyme, JLo, and Vanessa Williams just to name a few.
Calle's television work includes an almost decade-long stint as saxophonist in the Sabado Gigante orchestra and appearances as a soloist with various artists on the Tonight Show with Johnny Carson and Jay Leno, Late Night with David Letterman, the Grammy® Awards, and a host of international, national, and regional television programs and specials.
Latin Grammy® Awards
Dr. Ed Calle is a Latin Grammy® Award winner for Best Instrumental Album (2015) with Dr. Ed Calle Presents Mamblue and a five-time Grammy® nominee.
In addition to earning the 2015 Best Instrumental Album Latin Grammy® for Dr. Ed Calle Presents Mamblue, Calle also garnered a 2014 Latin Grammy® nomination and 2015 Grammy® nomination as a member of the Afro-Cuban Funk Super group PALO for their album PALO! Live.
Among his many solo recordings, Ed Calle Plays Santana earned a Latin Grammy® nomination in 2005. In the Zone features original jazz compositions and jazz standards and earned a Latin Grammy nomination in 2007.
His 2015 Latin Grammy® winning solo release Dr. Ed Calle Presents Mamblue, is an Afro-Cuban jazz orchestral spectacular featuring more than 115 of the most influential jazz and studio musicians in the history of South Florida. The first studio record by the World Music 5, America, features chamber jazz orchestrations of original and classic music from the Americas with an all-star quintet that includes Negroni's Trio and violinist Federico Britos. Exploring the duo realm with his longtime friend and colleague Jose Negroni, Calle is also featured on the Latin Grammy® Award nominated 2015 Sony Records release Negroni +9.